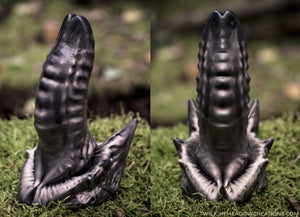 Let customers speak for us
"In the storytelling tradition of folklore tales, the themes of erotic nature spirits often represented a seductive, unbridled and bewitching sexuality. Nature became "The Other", a dark mirror-image to the cultural order"
Twilight Meadow Creation is a small two-person studio from Sweden creating award-winning, handmade body-safe fantasy sex toys, inspired by the Scandinavian and Celtic landscape and folklore.
Looking for something specific?
Unless otherwise noted, inventory drops go live on Thursdays at 8 pm CET/20:00 Swedish time.
To keep up with the next inventory drop, follow us on social media, subscribe to our newsletter or keep an eye out on our website.
We also offer Made-To-Order Surprise Custom products. 
Take a look at our Wildwood Customs collection!
(Currently OPEN!)
Featured collection - Ribbon Marble
---
WORLDWIDE EXPRESS SHIPPING
We offer worldwide express shipping with DHL and UPS!
♥  
DISCREET
Items will be sent out in plain, brown boxes or white padded envelopes. Our name won't appear anywhere.
♥  
BODY SAFE & HYPOALLERGIC
Every item is made out of certified skin-safe premium platinum cure silicone, using only cosmetic-grade pigments. 
♥  
ALL HANDMADE
From sculpting to casting the toys themselves, every part of the process is handmade. Items are hand-poured small batches here in our studio in southeastern Sweden.
Every toy is 100% unique and cannot be recreated.
♥  
LGBTQ OPERATED AND OWNED
Twilight Meadow Creations is run by two queer artists, striving to be inclusive of every gender & body type.
♥  
Let customers speak for us